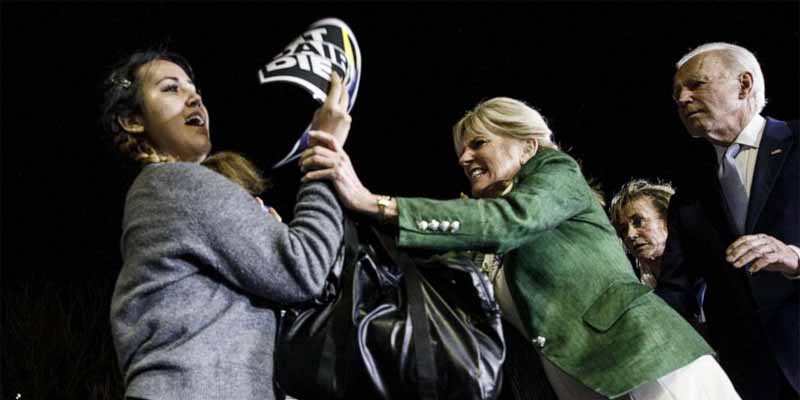 Super Thursday Odds Favor Betting On Best Biden Gaffes
Happy Super Thursday, everyone!
And what a superb Thor's Day it has been so far. Isn't that right, Joe Biden?
C'mon, man. All men and women are created by you know, you know the thing?
Look, fa(c)t. Here's the deal: The fact of the matter is Biden's odds to win the 2020 U.S. presidential election have him as the underdog against President Donald Trump.
Believe that or choose truth over facts.
Early 2020 Election Odds: Biden Vs. Trump
Political Futures – March 5, 2020 via Bovada
Donald Trump -160
Joe Biden +120
*Both must win the nomination for action
According to the early 2020 election odds at Bovada sportsbook, Trump's reelection chances would be favored if both he and the former Vice President are the eventual head-to-head matchup in the general.
Trump, at -160 ($1.60 bet wins $1), would be the favorite with a 58.07% chance to win a second term while the 2020 election odds for Biden at +120 ($1 bet wins $1.20) gives the underdog a 41.93% implied probability to pull off the upset.
But what about the Democratic nomination? Or are bettors all-in and ridin' with Biden after he won nine states and took the delegate lead on Super Tuesday?
The Democratic Party nominee odds for Biden, at -500 (giving him a 75% chance to win), have never been higher, according to Bovada on Super Thursday 2020.
2020 Democratic Presidential Nominee Odds
Political Futures – March 5, 2020 via Bovada
Joe Biden -500
Bernie Sanders +450
Hillary Clinton +1800
Michelle Obama +8000
Tulsi Gabbard +20000
Before placing a bet on Bernie Sanders to win due to his odds, at +450 (17% implied probability), being incredibly undervalued right now, there needs to be evidence supporting whether #JoeMentum can be sustained.
The total delegate count between the two is close after Super Tuesday. According to The New York Times, Biden has 513 delegates, and Sanders has 459 at the time of writing.
With 1,991 delegates need to secure the Democratic nomination, the 2020 primary race is far from over.
Biden's Best Gaffes
If you still think Biden will is a "safe bet" to hold off Sanders and win the nomination, then let's travel down memory lane and revisit some of the best "Say it ain't so, Joe" moments of his 2020 campaign.
Whether Biden's gaffes will win or cost him the nomination is too soon to tell as of Super Thursday. For now, we'll let you be the judge.
Jill Biden For The Win
Before going any further, can we all agree Dr. Jill Biden might be the cure America needs at the moment?
During Biden's post-Super Tuesday speech, a herd of "Let Diary Die" protestors came at Joe like a bunch of cattle with mad cow disease.
Jill Biden, who was standing next to her hubby after he confused her for his sister, leaped into action like Wonder Woman herself, shielding Joe all while lassoing the frothing, calcium-deprived vegans off the stage.
And despite saving her husband from harm — and potentially another Uncle Joe-like encounter with younger women — did the former Vice President thank his wife right then and there?
Nope. Instead, Biden went on to say, "Look, the middle class is getting clobbered," which is no doubt a reference to Minnesota Sen. Amy Klobuchar's endorsement that pushed him over the burrow in The Gopher State.
We'll forgive Joe Biden because he may have just forgotten where he was right then and there. Whatever the deal, Biden needs to figure out some way to remain focused and keep his message on point.
No malarkey: Jill might have been able to save Joe from the anti-dairy industry, but unless Jill can turn Joe into Jack, it doesn't look like he can get up the hill — meaning Trump will kill Biden on the debate stage.
But at the very least, for saving Joe Biden, our potential 46th President, we'd like to extend a thank you to Jill Biden.
Hopefully, the 2020 presidential election doesn't turn into House of Cards, but if it does, then America should rest easy knowing Jill would have our back like she had Joe's back on Super Tuesday.
Biden & Bernie VP Odds
Unfortunately, oddsmakers don't predict Jill Biden will be contention to be her husband's running mate, killing any chance of a House of Cards scenario playing out.
However, Bovada has released odds on who Joe Biden and Bernie Sanders select to be their Vice President on the Democratic ticket.
Currently, California Sen. Kamala Harris is favored to be Biden's VP. At +225 odds ($1 bet wins $2.25), the former favorite to win the Democratic nomination has a roughly 26% implied probability.
Stacey Abrams is listed as the favorite for Bernie's VP pick. With +185 odds ($1 bet wins $1.85), the 2018 Georgia gubernatorial election runner-up and first African-American woman to deliver a State of the Union response has about a 29% chance to be selected by Sanders for Vice President.
2020 Democratic Vice President Odds
Political Futures – March 5, 2020 via Bovada
Joe Biden VP Odds
Kamala Harris +225
Amy Klobuchar +300
Stacey Abrams +300
Elizabeth Warren +450
Pete Buttigieg +800
Catherine Cortez Masto +900
Bernie Sanders VP Odds
Stacey Abrams +185
Nina Turner +275
Julián Castro +450
Tammy Baldwin +450
Kamala Harris +600
Tulsi Gabbard +1100
Super Thursday Odds & Prop Bets
Last but not least, what would a Super Thursday be without some special betting odds and political prop bets.
Below you'll find an extra serving of 2020 election odds from Bovada. Super Thursday props include a brokered convention now being extremely unlikely to happen, Elizabeth Warren is favored to appear on the Joe Rogan podcast, and a snowball's chance in hell that Twitter is going to remove Donald Trump from their social media platform.
Political Props – March 5, 2020 via Bovada
Will The Democrats Have A Brokered Convention In 2020?
Who Will Be The Next Presidential Candidate To Appear On Joe Rogan Podcast?
Elizabeth Warren -250
Joe Biden +300
Donald Trump +750
Will @TheRealDonaldTrump Be Kicked Off Of Twitter Before 2022?