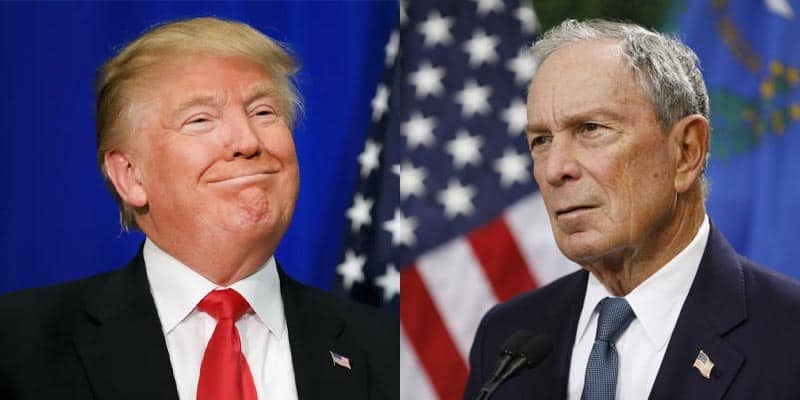 Trump Expected To Tweet About Old Friend, Opponent Michael Bloomberg before 2020
President Donald Trump has a preferred form of communication with the United States and its citizens: his official Twitter account.
Trump's tweets have ranged from anti-impeachment sentiments to Fox News retweets to videos of his speeches. Every so often, he might even share a photo of himself as a bulked-up boxing champion.
— Donald J. Trump (@realDonaldTrump) November 27, 2019
But other times, Trump will use his social media to call out his opponents. As most of his opponents are Democrats, it makes sense that he would call out another one before the end of the year.
His next victim could be Michael Bloomberg. A fellow New Yorker billionaire, the former mayor of NYC recently announced his 2020 campaign to thwart Trump's reelection efforts.
Based on the political betting odds, Trump has -220 chances of tweeting about Bloomberg before the start of 2020.
Will Donald Trump tweet about Michael Bloomberg before the end of 2019?
Via Bovada
Technically the tweet does not have to be an insult, so Trump could just mention his old friend and the "yes" hits.
Back in 2013, the two were on good terms.
When Bloomberg was still mayor, he praised "the great Trump organization" for turning a Bronx garbage dump into a golf course.
"If there is anybody who has changed this city, it is Donald Trump," Bloomberg gushed. "He really has done an amazing thing, and this [golf course] is another part of it."
In return, Trump complimented Bloomberg back. "You have been a great mayor. You really have. I mean, this guy is fantastic."
However, in 2019, Trump has acknowledged the deterioration of their friendship.
"I really liked Michael and I think he liked me, but it went really strangely haywire once I ran for office," Trump said earlier this year. "He probably doesn't like my policies. I'm for guns, he's against guns . . . A developer is a lot different than as a candidate."
When Bloomberg first ran for mayor, he was a Republican. Seeking reelection, he was an Independent before returning to the Democratic Party in 2018. Bloomberg's shift in political leanings is likely a reason the two cannot find as much common ground.
Interestingly, when Bloomberg first announced his 2020 run, his chances of winning in 2020 were actually pretty good.
Even still, Bloomberg's presidential odds are +1500, only behind Trump and big-name Democrats.
2020 Presidential election odds
Via Bovada
Donald Trump +130
Joe Biden +600
Pete Buttigieg +650
Elizabeth Warren +700
Bernie Sanders +900
Michael Bloomberg +1500
Andrew Yang +2000
Hillary Clinton +2500
Amy Klobuchar +5000
Tulsi Gabbard +5000
Kamala Harris +7000
Cory Booker +15000
Julian Castro +20000
Tom Steyer +20000
Bill Weld +25000
Marianne Williamson +30000