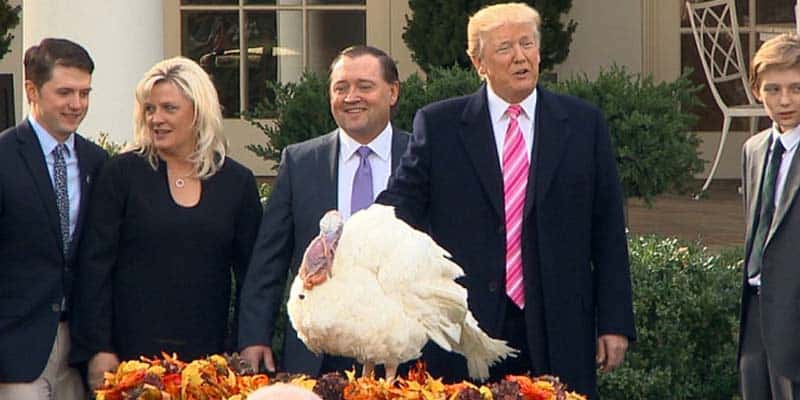 Trump Favored To Keep With Tradition, Pardon White House's Thanksgiving Turkey
The pardoning of the White House turkey may have started as far back as 1863 when President Abraham Lincoln spared the life of a holiday dinner turkey to appease his son's wishes.
But the history of pardoning turkeys is more involved than Honest Abe's clemency. According to the White House Historical Association, the practice of giving the President a turkey as a present dates back to the 1870s.
Officially presenting the turkey gift didn't start until 1947 but pardons were inconsistent, at best. President Harry Truman even claimed that two turkeys received in 1948 would "come in handy" for Christmas.
However, on Thanksgiving 1963, President John Kennedy said: "Let's keep him going," which was seen as a pardon for the lucky poultry.
Turkeys gifted to the White House in 1973 and 1978 were both sent to farms instead of the slaughter, paving the way for the practice under President Ronald Reagan from 1981 onward.
Finally, in 1989, President George H.W. Bush uttered the first official Presidential pardon for a Thanksgiving turkey: "But let me assure you, and this fine tom turkey, that he will not end up on anyone's dinner table, not this guy– he's granted a Presidential pardon as of right now."
Today, the tradition is still upheld annually. Last year, President Donald Trump pardoned Peas, a Broad Breasted White turkey from Huron, South Dakota.
Adding his own twist to the ceremony, Trump told the crowd the Peas won the pardon by a fair vote over another turkey, Carrots, but both turkeys should expect subpoenas from House Democrats.
The tradition is expected to continue in 2019, per Bovada. The online sportsbook favors another turkey pardon at -140 odds, although the lack of leniency has +100 chances of happening too.
Will Trump pardon a turkey for Thanksgiving 2019?
Via Bovada
Twitter, however, thinks this year's pardoning could be a tad different.
Ben Bowman joked that the 2019 turkey would only be pardoned if he had any information on the Biden family.
Trump tells turkey if he wants a pardon this Thanksgiving, he'd better cough up dirt on the Bidens. pic.twitter.com/v03JEnn3ah

— Ben Bowman (@BowmanInc) November 5, 2019
Peter Dykstra offered a different option: the turkey actually pardons Trump for his alleged crimes as POTUS. Maybe such an act would help Trump's impeachment odds.
BREAKING NEWS: In departure from tradition, Thanksgiving Turkey to pardon President Trump on Wed. Nov. 27. pic.twitter.com/2NVx9fCf34

— Peter Dykstra (@pdykstra) November 1, 2019