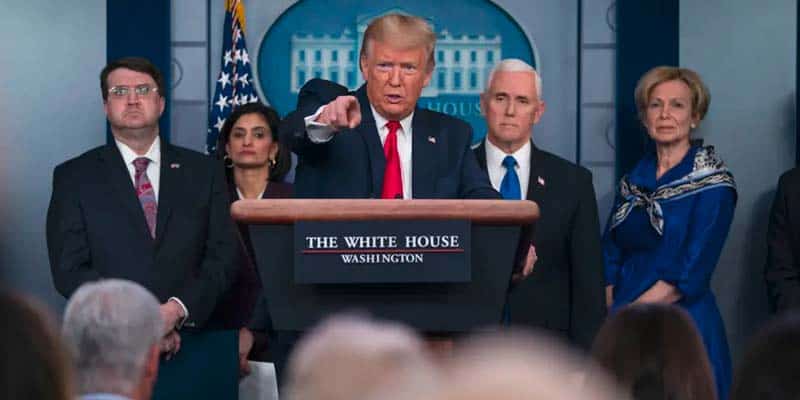 Oddsmakers Favor 'Wartime President' Trump To Win Re-Election
Political bettors went ridin' with Biden before the weekend, but they've since jumped back aboard the Trump train after taking a sip from the Morning morning cup of Joe.
President Donald J. Trump is once again listed as the betting favorite with the best odds of winning the 2020 U.S. presidential election on Tuesday, November 3, according to Bovada Sportsbook.
Odds To Win 2020 U.S. Presidential Election
From Bovada
Donald Trump -105
Joe Biden +105
Bernie Sanders +4000
Andrew Cuomo +5000
Mike Pence +5000
Hillary Clinton +6000
Nikki Haley +10000
Michelle Obama +20000
Tulsi Gabbard +50000
Trump Re-Election Odds Favored Over Biden
With COVID-19 continuing to spread across the country and 2020 Democratic presidential primary all but over—most states have now begun postponing elections due to the coronavirus pandemic, as well—bettors have continued to put more and more money on former Vice President Joe Biden's odds of becoming the 46th President of the United States.
Last week, the Bovada oddsmakers installed Biden as the first 2020 presidential candidate, from either party, to receive a better chance of winning the White House than Trump.
At -105 odds, Biden was the favorite with a 50% implied probability. On the flip side, Trump was listed as the underdog for the first time at +100, giving him a roughly 49% chance to win re-election.
However, the line favoring Biden was short-lived. Now, the Trump re-election odds for his second term are listed at -105, giving the Republican incumbent an approximately 50% chance of winning the 2020 U.S. presidential election—and where a $105 bet wins $100, for example.
Biden retakes the second spot at +105 odds, which implies there is a roughly 48% probability that the prohibitive 2020 Democratic nominee becomes the next U.S. President. For reference, a $100 bet on Biden today would pay out your initial wager and an additional $105 if the former VP is declared the general election winner.
"Wartime President" vs. "Invisible Enemy"
The coronavirus' impact on the 2020 election odds cannot be understated enough, and the race for the White House increasingly looks as if the medical, financial, and death toll from the global pandemic will be the deciding factors for Americans when voters head to the polls on November 3.
The number of confirmed cases and deaths are steadily climbing in the United States and worldwide. According to Worldometer at the time of writing, there are now 358,735 cases and 15,433 deaths globally, and 39,371 cases and 467 deaths in America attributed to the viral disease that began in Wuhan, China, in December 2019.
Both the U.S. and global stock markets continue to plunge with investors selling again across the board on Monday, March 23.
Trump has frequently touted his first term economic and job growth and was expected to be the centerpiece of his 2020 re-election campaign, dubbing America the "greatest economy ever" on multiple occasions.
Like investors and traders with stocks, the political betting markets also get a bit uneasy when they start to forecast value lost on their previous wagers due to recent events.
Disruptions to supply chains, inability to produce, businesses laying off employees, and less buying of products, goods, and services from the public are just some of the primary reasons why the stock market is in free fall.
Trump was listed at -180 odds after his State of the Union address in early February. Needless to say, his drop from his record high of 59% implied probability is likely due to his administration's initial downplaying of the coronavirus and the Democratic nominee futures painting a clearer picture.
Since declaring the COVID-19 outbreak a national emergency, Trump and his U.S. coronavirus task force—led by Vice President Mike Pence—have begun holding daily press conferences at the White House to brief reporters on the latest updates on the coronavirus.
The response to the daily coronavirus briefings has been mixed. Although it appears the Trump administration is finally taking the threat seriously, there have been a number of unexpected and misleading claims made along the way.
Dr. Anthony Fauci, the director of the National Institute of Allergy and Infectious Diseases, has become a regular voice of science and reason during the briefings. But even Fauci has publicly stated numerous corrections and disagreements with the President's approach to containing the coronavirus both during and after the conferences take place.
Yesterday's press conference was no different. Despite severe acute respiratory syndrome coronavirus 2 (SARS-CoV-2) being clearly visible under an electron microscope, Trump has now repeatedly stated we're at war against an "invisible enemy" along with assuring "total victory" over the pandemic.
Some may believe that is unfair or is "nick picking" since "we all know what he means" when he says things.
Well, Trump also declared himself a "wartime president" on Sunday—whatever that means since the United States has been "at war" the entire time you and I have been alive.
"A number of people have said it, and I feel it, actually. I'm a wartime president. This is a war—a different kind of war than we've ever had," Trump said during yesterday's press briefing.
The recent serious approach from Trump—and a possible multi-trillion-dollar federal stimulus bill package to send direct cash relief to all Americans—appears to have won back a slew of bettors over the past few days.
Whether they'll continue to be on board with Trump's chances when November 3 rolls around is uncertain. However, you can bet the wartime president's re-election chances will ultimately come down to whether he defeats the coronavirus before American voters cast their ballots.