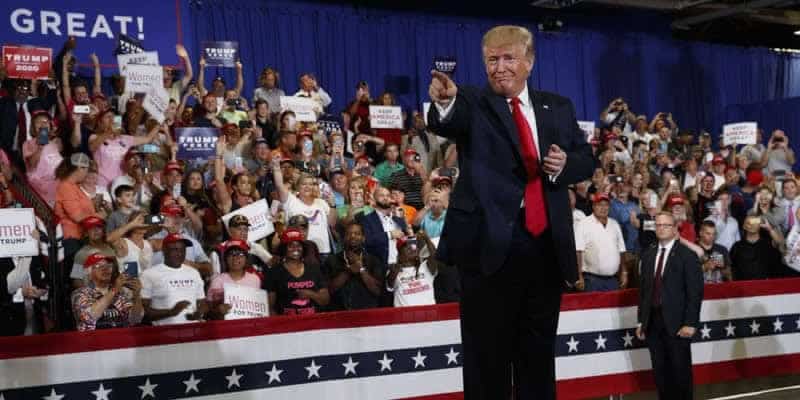 Odds Steady In North Carolina As Trump Stumps To Get Bishop Over Hump
President Donald Trump's #KAG campaign made its latest stop Monday night – this time in Fayetteville, North Carolina.
The larger purpose of the event wasn't strictly self-serving. Instead, the rally was held in support of Republican Dan Bishop, who looks to defeat Democrat Dan McCready for a seat in the US House of Representatives (NC-9). 
Trump has framed Bishop's candidacy – and Tuesday night's special election – as a chance to oust Nancy Pelosi.
"Tomorrow, we take the first steps to firing Speaker Pelosi and winning back the House in 2020," said Trump. "We need everybody to get your friends, get your family, and get your neighbors and get out and vote for Dan Bishop."
The results of the North Carolina special election will undoubtedly be interpreted as a referendum on Trump's staying power in districts he easily carried in 2016. As such, Trump's presidential election odds could change appreciably by this time tomorrow, though they're currently holding steady at +110.
2020 Presidential Election Odds
Via Bovada
Donald Trump +110
Elizabeth Warren +425
Joe Biden +500
Bernie Sanders +900
Kamala Harris +1600
Andrew Yang +1800
Pete Buttigieg +2500
Hillary Clinton +4000
Tulsi Gabbard +4000
Cory Booker +6000
Mike Pence +6000
Julian Castro +10000
Nikki Haley +10000
Beto O'Rourke +10000
Amy Klobuchar +12500
Tim Kaine +15000
John Kasich +15000
Michelle Obama +15000
Ted Cruz +20000
Mitt Romney +20000
Howard Schultz +20000
Tom Steyer +20000
Marianne Williamson +20000
Oprah Winfrey +20000
Tammy Duckworth +25000
Trey Gowdy +25000
Marco Rubio +25000
Jeb Bush +30000
Bill De Blasio +50000
George Clooney +90000
Kanye West +90000
Of course, despite the energy of the event, many in the media are painting The Donald in a more negative light. In an ABC-WaPo poll strategically released just hours after the North Carolina rally, Trump's approval rating is down six points.
This drop, claims analysts, is tied to the #KingOfDebt's handling of the economy, particularly in regards to the so-called "trade war" with China.
However, as has so often been the case, these concerns – expressed so forcefully in poll after poll – have not affected Trump's odds for re-election in any meaningful way. The rallies don't seem to make them better, and the scandals don't seem to make them worse. 
One of the biggest highlights of the Fayetteville rally was less political and more personal, as Trump took time to address the world's most famous combover.
Speaking about his willingness to campaign for Bishop's candidacy in Tuesday's special election, Trump says he sought out a larger outdoor venue for the rally, though relocation was ultimately decided against due to inclement weather.
"I was even willing to stand out in the rain and get my hair soaking wet. … I would've been very proud to have done it. It would have shown it's my real hair, at least," said Trump. "It's my hair. May not be great, but I will say it's better than most of my friends' who are the same age."
That revelation could be a slippery slope. History, after all, doesn't tend to remember politicians with distinctive hairstyles particularly fondly.
On the other hand, Trump has consistently proven that such old rules don't really apply.
And besides, corn isn't that offensive.