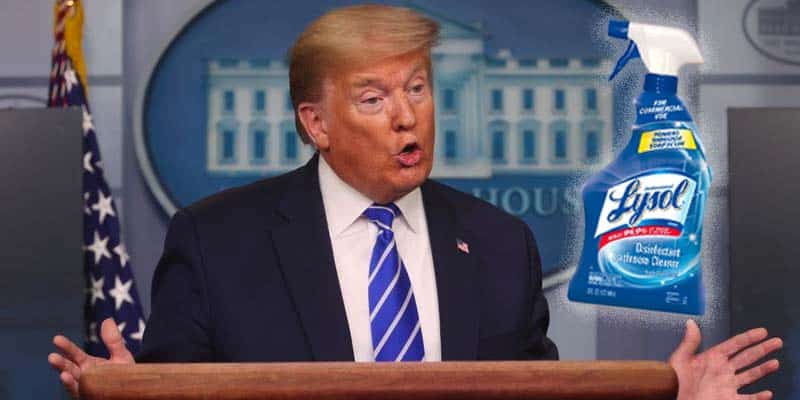 Trump VS Biden 2020 Odds Tighten As 'Dr. Donald' Goes Viral
With the United States COVID-19 spread rate showing the curve flattening over the past couple of weeks, online sportsbooks continue to see bettors back the 2020 reelection chances of President Donald Trump — the virtually unchallenged Republican incumbent.
However, the recent comments made by "Dr. Donald Trump" during Thursday's coronavirus task force briefing appear to have caused a fair amount of uneasiness from political gamblers, thus increasing former Vice President Joe Biden's odds of winning the 2020 election in the process.
2020 Election: Trump vs. Biden Odds
April 24 — Odds courtesy of Bovada Politics
Donald Trump -120
Joe Biden +115
Presidential Longshots
Andrew Cuomo +3300
Hillary Clinton +4000
Mike Pence +6600
Michelle Obama +15000
Nikki Haley +15000
Underdog Biden Gains Ground On Favorite Trump
Based on the updated 2020 US Presidential Election futures at Bovada Sportsbook, Donald Trump remains the most likely candidate to win at -120 as of Friday, April 24. The new lines indicate a slight decrease from the -125 the President held yesterday and throughout most of the month.
Trump -120 is currently is favored with oddsmakers giving the sitting POTUS a 54 percent implied probability. An example $120 bet on the Republican incumbent today would win $100 at Bovada if elected President for four more years.
Joe Biden has frequently been reinstalled as the betting underdog by Bovada's oddsmakers after being listed at +120 yesterday and +125 for much of April. However, the former Vice President did briefly become the 2020 favorite for approximately one weekend in March.
Today, Biden +115 is the new line, giving him a slight increase to 45 percent for his current White House chances. A $100 wager on Biden +115 would win $115 if the former VP defeated President Trump in the general election on Tuesday, November 3, 2020.
The potential 2020 candidate odds vary from +3300 to +1500 and offer a significant return on investment at Bovada. However, just know that all candidates who not named "Trump" or "Biden" currently have a combined less than one percent implied probability until further notice.
Dr. Donald Trump, Lysol Go Viral After Briefing
At Thursday's White House coronavirus task force briefing, President Trump pondered out loud at the possibility of injecting household disinfectants into people infected with the coronavirus, causing doctors and companies to issue warnings against the standup medical advice of "Dr. Trump."
"And then I saw the disinfectant, where it knocks it out in one minute and is there a way we could do something like that by injection inside or almost a cleaning," Trump said during the April 23 press conference. "As you see it gets in the lungs, it does a tremendous number on the lungs, so it would be interesting to check that."
Bill Bryan, a science and technology undersecretary at the Department of Homeland Security, clarified, "We don't do that within that lab, at our labs" before Trump chimed in "maybe it works, maybe it doesn't work."
After the makers of Lysol and other cleaners issued PSAs advising Americans not to inject their products, trends such as #DontDrinkBleach and other hashtags rose to the top of Twitter on Thursday and have remained high throughout Friday.
Joe Biden, the presumptive Democratic nominee, quickly made his practical approach known, tweeting: "UV light? Injecting disinfectant? Here's an idea, Mr. President: more tests. Now. And protective equipment for actual medical professionals."
UV light? Injecting disinfectant?

Here's an idea, Mr. President: more tests. Now. And protective equipment for actual medical professionals. https://t.co/Zv4Mfs2Z4a

— Joe Biden (@JoeBiden) April 24, 2020
Biden's chances of winning should continue to improve as long as he doesn't advise his voters, as well as all Americans, to inject whatever is under their kitchen sink during the quarantine.
And he might receive a substantial boost in the coming weeks depending on which woman he picks as VP. As luck should have it, a clear favorite has emerged at political betting sites, according to the latest odds on the 2020 Democratic Vice Presidential nominee.
However, given that both Trump and Biden have their "odd" moments, blunders and gaffes, it's a safe bet to say neither has established themselves as the runaway favorite for the presidency. As of April 24, the odds slightly favor Trump over Biden, but there are some signs the betting markets will soon see an even tighter 2020 race.