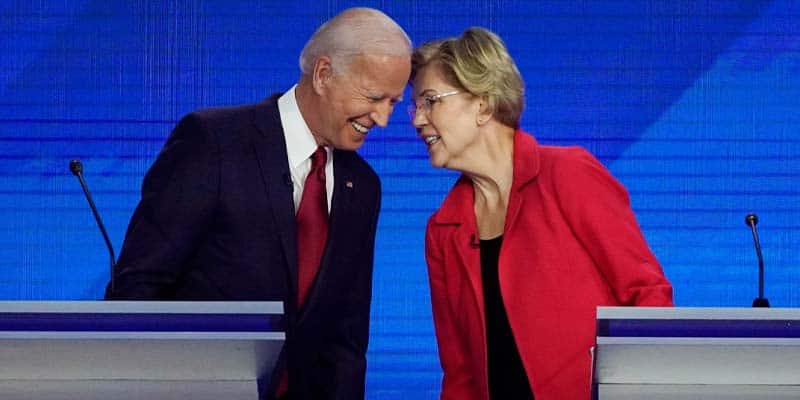 Warren Destroys Biden In Third-Quarter Fundraising, Increases Odds Lead
First, the betting market for 2020 Democratic Nomination favored Elizabeth Warren over Joe Biden.
Then, the polls numbers began showing the Massachusetts Senator beating the former Vice President.
Now, Democratic supporters placed bets on campaigns on the two front-running candidates, and the Q3 fundraising numbers show a clear winner between the two.
Warren's campaign released her third-quarter fundraising numbers late Friday and reported she raised a total of $24.6 million—a significant jump from the $19.1 million in the second quarter and far surpasses her $6 million in the first quarter.
Biden, on the other hand, only managed to raise $15.2 million in the third quarter, which is a massive dropoff from the $21.5 million he hauled in during the previous quarter. The former VP didn't announce his candidacy until April 25, so he does not have any first-quarter filings.
Q3 Fundraising For All 2020 Candidates
While Warren may have topped Biden, she came up roughly $700K short of raising more than Vermont Senator Bernie Sanders, who leads all Democrats that have announced their Q3 fundraising with $25.3 million raised.
However, all the Democratic candidates have their work cut out for them since President Donald Trump announced last week that his reelection campaign took in a record $125 million in the third quarter.
All candidates running for President have until Tuesday, October 15, to file their third-quarter fundraising and spending reports with the Federal Election Commission.
The following are the Q3 numbers that have been released as of October 7:
Donald Trump $125 million
Bernie Sanders $25.3 million
Elizabeth Warren $24.6 million
Pete Buttigieg $19.1 million
Joe Biden $15.2 million
Kamala Harris $11.6 million
Andrew Yang $10 million
Cory Booker $6 million
Marianne Williamson $3.1 million
Steve Bullock $2.3 million
Michael Bennet $2.1 million
Warren Increases 2020 Odds Lead Over Biden
Warren's 2020 Democratic odds continue to trend upward, and she's now tied with the entire field at -120  and has approximately a 54.55% chance to win the party's nomination. She was listed at -110 odds, 52.38% chance, last week.
The odds for Biden have not changed from the previous listing, but the gap has moved as Warren's chances continue to go up. Biden remains listed at +450 odds, which currently gives the former VP an 18.18% chance to represent the Democrats in the general election.
Here's where all the candidates are listed in the latest posting from the BetOnline oddsmakers:
2020 Democratic Nomination Odds
Elizabeth Warren -120
Not Elizabeth Warren -120
Joe Biden +450
Andrew Yang +700
Bernie Sanders +1000
Pete Buttigieg +1000
Kamala Harris +1400
Tulsi Gabbard +3300
Beto O'Rourke +5000
Cory Booker +5000
Tom Steyer +5000
Amy Klobuchar +6600
Julian Castro +8000
Jay Inslee +10000
Marianne Williamson +10000
John Delaney +15000
Michael Bennett +15000
Tim Ryan +15000