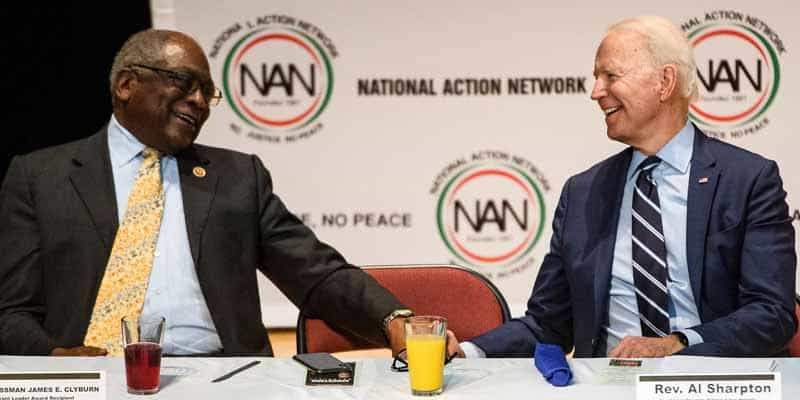 Bettors Are Ridin' With Biden To Win South Carolina Primary
Just when you thought he was out, Joe Biden pulled us back in.
After Biden suffered three consecutive disappointing finishes in Iowa, New Hampshire, and Nevada — the latter of which he led in the polls less than a month prior — the former Vice President is going "all-in" to make a final stand in the last of the early primary states: South Carolina.
The South Carolina Democratic primary betting odds swung in Bernie Sanders' favor immediately following his dominant victory in the Nevada caucuses, which saw the Vermont senator receive 46.8% of the county convention delegates — more than double any other candidate.
But in less than a week, both oddsmakers and 2020 election political bettors have made it clear they are ridin' with Biden ahead of the Sat., Feb. 29 election in the Palmetto State.
South Carolina Democratic Primary Betting Odds
Political Futures – Feb. 27, 2020 via Bovada
Joe Biden -1200
Bernie Sanders +600
Amy Klobuchar +10000
Elizabeth Warren +10000
Pete Buttigieg +10000
Tom Steyer +10000
*Graded winner determined by the South Carolina Election Commission.
South Carolina Primary Prediction
The updated betting odds for Joe Biden now lists the former Vice President as a heavy favorite to win the South Carolina Democratic presidential primary.
According to the political futures at Bovada sportsbook, Biden is currently receiving -1200 odds, meaning a $12 wager would win $1 if he finishes with the most votes during the fourth early state primary this Saturday.
Biden has a 92.31% implied probability when the sportsbook's odds are converted to percentage chance. After removing the vigorish — or "juice" — baked into the odds, Biden has an 83% chance to win the South Carolina primary election.
The futures from five days ago indicate Biden's 2020 campaign has drastically improved its chances in the upcoming contest.
On Sunday, the former Vice President was listed at +110 odds, which means a $1 bet could net a $1.10 profit, and his true probability of winning indicated he only had a 42% chance.
To compare, the betting odds for Sanders at the time, -140, meant a $1.40 bet paid out $1, giving the Vermont senator a 51% chance to win the most votes in a fourth consecutive primary contest.
Sanders has since fallen to +600 odds at Bovada, where a $1 bet now wins $6 if he breaks through the Biden "firewall," which is down to a 13% chance with the updated board.
Biden nearly doubling his chances — from 42% to 83% now — to win South Carolina in less than a week proves Sanders winning the Democratic presidential nomination is not yet a "safe bet."
While he still has a lot of work to do, a win on Saturday puts the former frontrunner back in contention ahead of next week's 15 Democratic primaries held on Mar. 3, where he's currently favored to win only two states on Super Tuesday.
Mounting a comeback means Biden must tick off a few boxes first, which includes: Earning endorsements from long-time, well-respected members of the party; building a movement rivaling Sanders' supporters; increasing fundraising from individual donors; and working to swing the likely voter public opinion polls back in his favor.
Polling from a week ago showed the gap narrowing in South Carolina, with surveys showing Sanders scratching at the margin of error, trailing by less than three percentage points following his dominant win in Nevada.
However, Biden has regained his massive edge in support this week, according to the most recent polling average at FiveThirtyEight.
As of Thurs., Feb. 27, Biden is polling at 36.6% support in South Carolina compared to 16.9% for Sanders, 13.5% for Steyer, and no other candidate reaching double digits.
The former second-in-command under President Barack Obama secured a key endorsement Wednesday when South Carolina Rep. Jim Clyburn, the House Majority Whip and highest-ranking African American in Congress, announced he would be voting for Biden on Saturday at a press conference in North Charleston.
"I've known for a long time who I was going to vote for. I'm voting for Joe Biden. South Carolinians should be voting for Joe Biden," Clyburn said, adding that his late wife helped him make his decision. "We often talked about the leadership of this country, and there is nobody who Emily loved as a leader in this country more than she loved Joe Biden."
In a campaign video, Clyburn says South Carolina has launch former Presidents, such as Bill Clinton and Barack Obama, to the White House, and that it's time to do the same for Biden.
Jim Clyburn is a voice of powerful moral clarity that is heard loud and clear across this country — in our capital and beyond. He reminds us why we're in public service in the first place — and I'm proud to have his support. pic.twitter.com/6Lh970vjYu

— Joe Biden (Text Join to 30330) (@JoeBiden) February 26, 2020
Clyburn is arguably the most influential African American politician in South Carolina, and his endorsement is sure to carry a lot of weight in a state where black voters account for nearly two-thirds of the Democratic electorate.
Biden's support in South Carolina, both among black voters and overall, had fallen over the past month, but it appears his campaign has righted the ship this week.
According to a new Monmouth poll conducted Feb. 23-25 and released today, Biden holds a 20 percentage point lead in South Carolina, receiving 36% support compared to 16% for Sanders and 15% for Steyer.
Biden has regained a massive advantage among the state's African American demographic, with 45% of black voters in South Carolina listing the former VP as their first choice and only 17% for Steyer and 13% for Sanders.
There's a strong chance the Clyburn endorsement solidifies Biden's support among the Palmetto State's black voters, who may have started leaning towards Sanders after early primary results and his new frontrunner status.
Democratic Nominee Projections
Sanders still listed as the favorite to win the party's nomination, according to the most recent 2020 Democratic presidential nominee odds.
However, Biden is already mounting a comeback at the political betting site, which has seen him take back the second spot from Bloomberg — and within striking distance of Sanders.
If Biden wins the South Carolina primary by a wide margin like the polls are suggesting, then the former VP might be able to spark a new wave of support ahead Super Tuesday and make it a two-candidate race.
For now, Sanders is the clear favorite, but the next couple of weeks will determine whether he can fend off Biden's do-or-die rally and secure the nomination ahead of the convention later this summer.
2020 Democratic Presidential Nominee Betting Odds
Political Futures – Feb. 27, 2020 via Bovada
Bernie Sanders -110
Joe Biden +325
Michael Bloomberg +500
Pete Buttigieg +1400
Hillary Clinton +3000
Elizabeth Warren +5000
Michelle Obama +10000
Amy Klobuchar +25000
Tom Steyer +50000
Tulsi Gabbard +50000