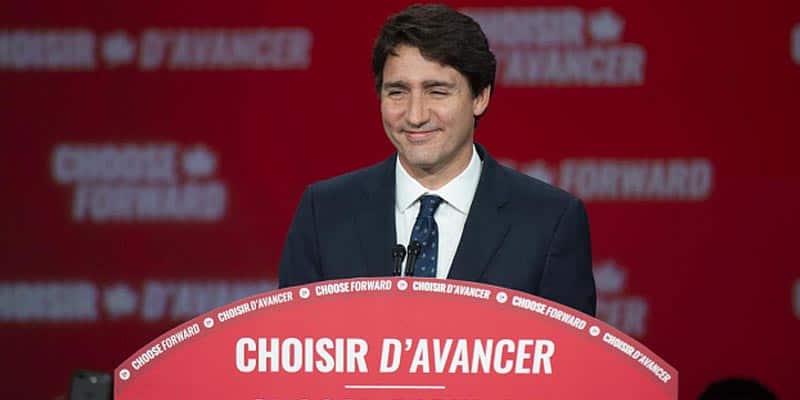 Odds Hold True For Justin Trudeau, Wins Reelection As Canadian Prime Minister
"Avançons," Canadian Prime Minister Justin Trudeau tweeted this morning.
"Moving forward" is the only thing Trudeau can do after the Liberal Party incumbent narrowly defeating Conservative Party candidate Andrew Scheer in the 43rd Canadian general election.
Although Trudeau was favored in the 2019 Federal Election with -150 odds, Scheer was a close second at +115. Following his brown and blackface controversies, Trudeau's reelection chances were hanging by a thread.
Trudeau secured a key endorsement from former United States President Barack Obama last week that may have boosted Canada's confidence in their Prime Minister ahead of the election, saying that the world needs his leadership.
I was proud to work with Justin Trudeau as President. He's a hard-working, effective leader who takes on big issues like climate change. The world needs his progressive leadership now, and I hope our neighbors to the north support him for another term.

— Barack Obama (@BarackObama) October 16, 2019
Obama was not the only POTUS to support the Prime Minister. After Trudeau was announced the winner of the election, President Donald Trump tweeted his congratulations.
Congratulations to @JustinTrudeau on a wonderful and hard fought victory. Canada is well served. I look forward to working with you toward the betterment of both of our countries!

— Donald J. Trump (@realDonaldTrump) October 22, 2019
When Trudeau won his first Prime Minister election in 2015, the numbers were historical. Trudeau and the Liberal Party won 184 seats out of 338 total, tallying 39.5% of the popular vote.
The 2019 election tells a different story. The Liberal Party lost the majority as they were only able to secure 157 seats this time around. The Conservatives, on the other hand, notched 121 seats. The other parties also grabbed a few seats: 32 for Bloc Québécois, 24 for New Democrats, and 3 for the Green Party.
As a result, the Liberals will now have to form a minority government in conjunction with one of their political rivals.
Political science professor Jonathan Rose says that Trudeau knows he will need the support of another party "for sure," after the PM's statement in Montreal this morning.
"You did it, my friends. Congratulations. To those who did not vote for us, know that we will work every single day for you. We will govern for everyone," Trudeau said.
Trudeau tweeted a similar sentiment last night after his victory was secured, claiming that his team will "work hard for all Canadians."
Thank you, Canada, for putting your trust in our team and for having faith in us to move this country in the right direction. Regardless of how you cast your vote, our team will work hard for all Canadians.

— Justin Trudeau (@JustinTrudeau) October 22, 2019
Despite losing, Scheer and the Conservative Party are remaining steadfast. During his concession speech last night, Scheer warned Trudeau that the party was lighting the fire underneath the PM and the Liberals.
"Tonight Conservatives have put Justin Trudeau on notice," Scheer said during the speech. "Mr. Trudeau, when your government falls, Conservatives will be ready, and we will win."