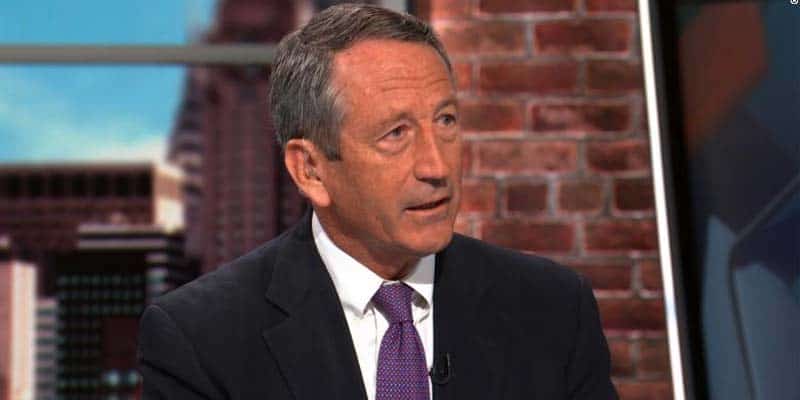 Longshot 2020 GOP Candidate Mark Sanford Drops Out As Trump Impeachment Consumes Media
Despite having longshot odds of becoming the Republican nominee, this week saw one of the few legitimate GOP challengers to Donald Trump bow out of the 2020 race.
After launching his 2020 presidential campaign in September—receiving +3300 odds to beat Trump, 2.94% chance—former South Carolina governor Mark Sanford ended his White House bid on Tuesday, Nov. 12.
The reason for calling it quits? The media's obsession with Trump's impeachment.
"The impeachment has simply sucked all of the oxygen out of the room," Sanford said.
Currently, only Illinois Rep. Joe Walsh and former Massachusetts Gov. Bill Weld are the only Republicans who remain in the race. However, Walsh has yet to even receive GOP odds while Weld is listed at a distant +6000 odds, 1.64% chance.
For comparison, Trump's GOP nominee odds show him as the heavy favorite at -500 odds, which holds an 83.33% implied probability—unsurprising when you consider he is the incumbent. Trump is favored to be impeached by House Democrats, but the odds of him being removed from office by the Republican-controlled Senate after far lower.
2020 Republican Nominee Odds
Via Bovada – 11/15/19
Donald Trump -500
Mike Pence +900
Nikki Haley +1000
Mitt Romney +2000
Ben Sasse +5000
John Kasich +5000
Paul Ryan +5000
Bill Weld +6000
Rand Paul +10000
What's interesting, however, is that Sanford didn't focus on impeachment or Trump's conduct since taking office. Instead, the former governor hoped to convey the need for a return to conservative values.
In fact, his primary criticism against the President was the growing national debt, which surpassed $23 trillion earlier this year with the federal budget now running at $1 trillion per year deficit for the first time in over six years.
Ultimately, his message fell on deaf ears—or no ears at all with reports of only small crowds or no one at all showing up to Sanford's events—and didn't resonate with Republican or Independent voters who would consider rallying behind a Trump alternative.
But in the end, the nonstop media coverage of Trump's impeachment, which has only intensified since the public hearings began earlier this week, was the final nail in Sanford's campaign coffin.
"I am suspending my race for the Presidency because impeachment has made my goal of making the debt, deficit, and spending issue a part of this presidential debate impossible right now," Sanford said in a statement earlier this week.
"From day one, I was fully aware of how hard it would be to elevate these issues with a sitting president of my own party ignoring them," he added. "Impeachment noise has moved what was hard to herculean as nearly everything in Republican Party politics is currently viewed through the prism of impeachment."
And it's not just Trump's challengers that will need to overcome the around-the-clock coverage by the corporate media. Democrats, who only have less than three months until the Iowa caucuses, will lose valuable on-air time with their opponent dominating the news cycle across all platforms.
Poll after poll shows that American voters do not care about Trump's impeachment as a policy issue. Health care, the economy, and wealth gap and income inequality consistently rank among the top issues facing the country and stretch across the political aisle.
Sanford specifically focused on the economic outlook and had one final point to make before drawing the curtains on his campaign and odds to win the 2020 Election.
"We are not talking about some things that are going to come back to bite us, we are walking toward one of the most predictable financial crisis in the history of our country, and there is zero discussion in this presidential race about it," said Sanford.
Odds To Win 2020 Presidential Election
Via Bovada – 11/15/19
Donald Trump +130
Elizabeth Warren +365
Joe Biden +600
Pete Buttigieg +1000
Bernie Sanders +1100
Michael Bloomberg +1500
Andrew Yang +2000
Hillary Clinton +2800
Mike Pence +5000
Tulsi Gabbard +7000
Kamala Harris +8000
Amy Klobuchar +12500
Cory Booker +15000
Julian Castro +20000
Tom Steyer +20000
Bill Weld +25000
Marianne Williamson +30000