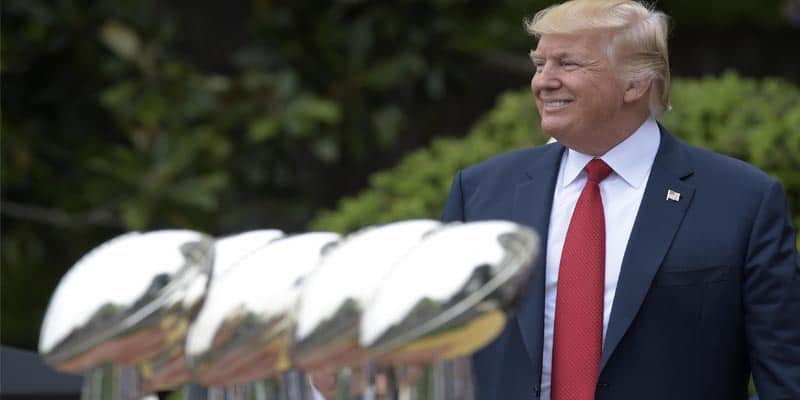 President Donald Trump Receives New Batch Of Super Bowl 54 Prop Bets
Ever since President Donald Trump and former New York City mayor Michael Bloomberg each paid $10 million for their 60-second ads during the Super Bowl earlier this month, you could bet that oddsmakers couldn't wait to offer numerous ways to bet on the two 2020 candidates during the big game.
And so far, the betting sites have exceeded all expectations with the number of political prop bets available for Super Bowl 54.
After oddsmakers opened the Kansas City Chiefs as a 1.5-point favorite over the San Fransisco 49ers, several online sportsbooks posted several Super Bowl 54 prop bets on Trump and Bloomberg's commercial spots during the big game.
But if the dozens of ways to bet was enough, MyBookie has got you covered, posting even more political Super Bowl prop wagers on Trump, specifically.
The President's Twitter account, @realDonaldTrump, is the primary focus of the newly released SBLIV props.
Everything from an over/under on the number of times he tweets on Super Bowl Sunday to propositions on whether there will be more Trump tweets or points scored by the 49ers can be found below.
Despite the ongoing impeachment trial in the U.S. Senate, Trump's removal from office odds is "slim to none" at best. At Bookmaker, the odds of a Senate conviction were last listed at -33233 for No, which is a roughly 98.40% chance of happening, compared to +1592 for Yes, a 1.60% probability.
For the 2020 presidential election, Trump's reelection odds remain at the top of the board. At -130, the Republican incumbent is the favorite and has an approximately 56.52% implied probability of winning the general election and a second term in the White House.
However, anything can happen from now until Tuesday, Nov. 3 and you only need to look back to 2016 for the proof.
For now, the prop wagers for Super Bowl 54 are the focus for political bettors from around the country. Here's a look a the latest offerings on Trump from the oddsmakers at MyBookie.
President Donald Trump Super Bowl 54 Prop Bets
Via MyBookie Sportsbook – Jan. 29, 2020
Will Trump Tweet Support For Either Team Before Super Bowl 54?
How Many Times Will Trump Tweet On Super Bowl Sunday?
Over 13.5 +100
Under 13.5 -140
Which Total Will Be Higher: Trump Tweets Or 49ers Points?
49ers Point Total In Super Bowl -180
Trump Tweet Total On Super Bowl Sunday +140
Will President Trump Tweet During The Game?
Will Joe Buck Or Troy Aikman Say Trump's Name?
Trump Congratulate The Super Bowl Winner On Twitter Before Midnight?
Will Trump Predict The Super Bowl Winner Before Kickoff?