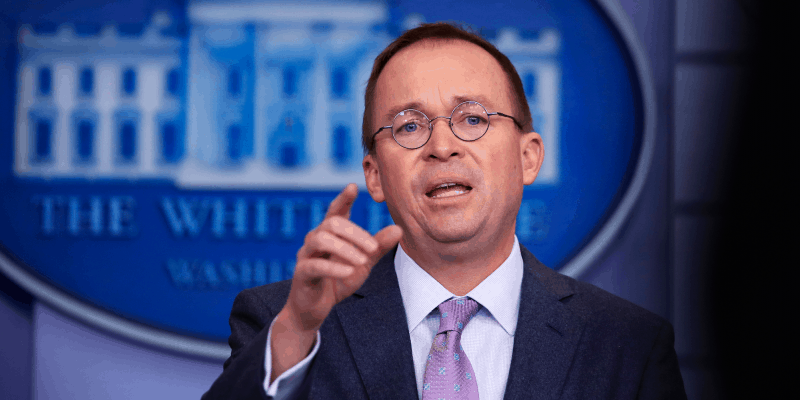 White House Admits Trump-Ukraine Quid Pro Quo, Impeachment Odds Remain 50/50
Reporter: Was there a quid pro quo when Trump blocked $400 million of military aid to Ukraine to get dirt on his political rivals?
Mulvaney: Yes, but not that there's anything wrong with that.
That was essentially the scene at Thursday's press briefing when Acting White House Chief of Staff Mick Mulvaney admitted the Trump administration withheld congressionally-approved military funding from Ukraine to push for an investigation into "the corruption related to the DNC server" during the 2016 President Election.
When reporters asked Mulvaney, point blank, if what he was saying was a textbook definition of a quid pro quo, "We do that all the time with foreign policy."
"Did he also mention to me in the past the corruption related to the DNC server? Absolutely, no question about that. But that's it, that's why we held up the money," said Mulvaney, who recycled a claim that it was actually Ukraine—not Russia—that hacked Democratic National Committee's computer server despite there being no proof of that actually happening.
Mulvaney said withholding congressionally approved military funds meant for a foreign country and using it as leverage happens all the time, adding that critics of the Trump administration should "get over it."
"I have news for everybody: get over it. There's going to be political influence in foreign policy," Mulvaney said. "Elections do have consequences and they should, and your foreign policy is going to change … there's no problem with that."
Today's admission comes after weeks of repeated denial from the White House and the administration of any wrongdoing or quid pro quo orchestrated by President Donald Trump.
Trump himself has vehemently denied the allegations since the beginning and has repeated his stance on Twitter several times.
….You will see it was a very friendly and totally appropriate call. No pressure and, unlike Joe Biden and his son, NO quid pro quo! This is nothing more than a continuation of the Greatest and most Destructive Witch Hunt of all time!

— Donald J. Trump (@realDonaldTrump) September 24, 2019
When looking at Trump's odds of being impeachment, the President saw his chances fall in his favor from -150 odds to -115 following Tuesday's Democratic debate in Ohio.
With both "Yes" and "No" given identical -115 odds, Trump has a 50/50 chance of being impeached by the House, according to the oddsmakers at Bovada Sportsbook.
Will Trump be impeached during his first term?
Via Bovada – 10/17/19
The incumbent Republican is still favored to get four more years in the White when taking a look at Trump's chances of winning reelection in 2020. His odds are listed at +125 currently, which is down from his all-time high of -120 before the Summer.
And as the incumbent, Trump is unlikely to face any serious competition from other candidates with odds to win the Republican Nomination.
Below you can find the current odds to win the 2020 Presidential Election for Trump and all potential Democrats who could challenge him in next year's general election.
2020 Presidential Election odds
Via Bovada – 10/17/19
Donald Trump +125
Elizabeth Warren +225
Joe Biden +700
Bernie Sanders +1400
Pete Buttigieg +1400
Andrew Yang +2000
Kamala Harris +5000
Tulsi Gabbard +8000
Tom Steyer +10000
Beto O'Rourke +10000
Cory Booker +10000
Amy Klobuchar +12500
Julian Castro +12500