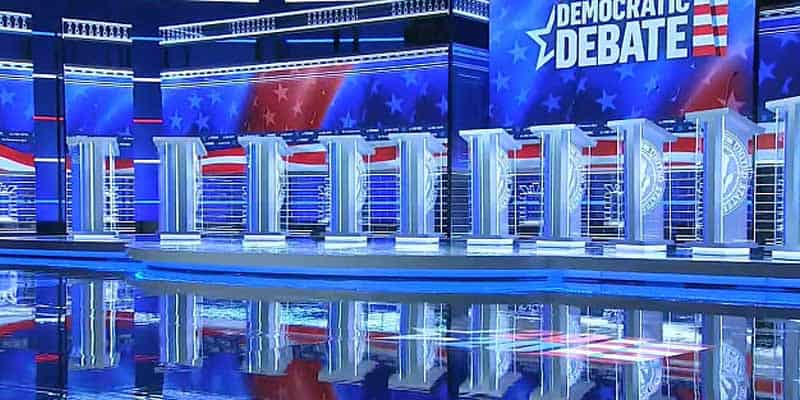 Tyler Perry Studios Presents: Fifth Democratic Debate, Starring Prop Bets
Ray Charles may have had Georgia on his mind in 1962, but the state has the Democratic debate on its mind in 2019.
Hosted by MSNBC and The Washington Post, the fifth Democratic debate will be held at the Tyler Perry Studios in Atlanta, Georgia tonight at 9 pm ET.
The two-hour event will feature the Party's biggest names discussing the most noteworthy issues surrounding the 2020 Presidential election.
Narrowing the field down from 12 candidates last month to ten tonight, the candidates to be on stage were able to meet the DNC thresholds of 165,000 donors and polling numbers of 3% in four qualifying polls or 5% in two early-voting state polls.
The candidates, from left to right on stage, will be as follows:
Cory Booker– Senator from New Jersey
Tulsi Gabbard– Representative from Hawaii
Amy Klobuchar– Senator from Minnesota
Pete Buttigieg– South Bend, Indiana Mayor
Elizabeth Warren– Senator from Massachusetts
Joe Biden– Former Vice President
Bernie Sanders– Senator from Vermont
Kamala Harris– Senator from California
Andrew Yang– Tech entrepreneur
Tom Steyer– Billionaire activist
As for those "noteworthy issues" mentioned above, the topics are expected to range from President Trump, to healthcare, to voter support.
What is likely to be the most impassioned topic throughout the debate, however, is the impeachment inquiry. After the first few days of public testimonies, Trump's impeachment odds are not in his favor.
In the first week of testimonies, United States diplomats George Kent and William Taylor, former ambassador Marie Yovanovitch, and ambassador Gordon Sondland, along with a few others, have testified in the proceedings.
There is a prop bet for tonight that sets the over/under of the word "impeach" at 30 times. Both sides are given -120 odds.
How many times will the candidates say "impeach"?
Over 30 times -120
Under 30 times -120
Trump is not the only White House official that will be tested in Georgia tonight. Biden, the former VP during Barack Obama's administration, usually polls well in Southern states.
Biden is currently polling at 33% in neighboring South Carolina, a state with a large black voting population, that other frontrunners have not been able to crack.
Southerner Democratic voters will likely be watching to see Biden's responses to healthcare and marijuana questions, if there are any, to really test their support of Obama's former second-in-command.
Speaking of black voters' support in South Carolina, Mayor Pete may have to answer some questions about a recent scandal making headlines.
It was revealed that Buttigieg's campaign falsified the support of "400 Black South Carolinians" for his Douglass Plan for Black America. This is not even including his campaign's use of a Kenyan woman to represent Black America or his poor tasting Holocaust Museum photo.
Warren is another Democratic favorite with a target on her back. A strong supporter of Medicare for All, the Massachusetts senator is facing backlash for her proposed implementation program.
According to Warren's new plan, she would introduce legislation similar to the healthcare plans favored by Buttigieg and Biden for a short period before passing a true Medicare for All alternative to private insurances.
As three of the best polling Democrats overall, Biden, Buttigieg, and Warren were likely to face attacks during the debate anyway. However, with the wealth of ammunition for the other candidates, things could turn hostile quick.
To watch the live debate tonight, tune into MSNBC, their website, the NBC News app, The Washington Post's app and website, or SiriusXM Channel 118.
To go along with the impeachment prop bet mentioned above, BetOnline has a few other political betting odds that mainly focus on what the candidates might say during the debate. A full list is provided below.
How many times will Andrew Yang say "Freedom Dividend"?
Over 1.5 times -120
Under 1.5 times -120
Will any of the candidates use a cuss word?
Will any of the candidates say "MSNBC"?
How many times will the candidates say "trillion"?
Over 2.5 times -120
Under 2.5 times -120
Will any candidate endorse another for President?
Will the debate be interrupted by a protester?