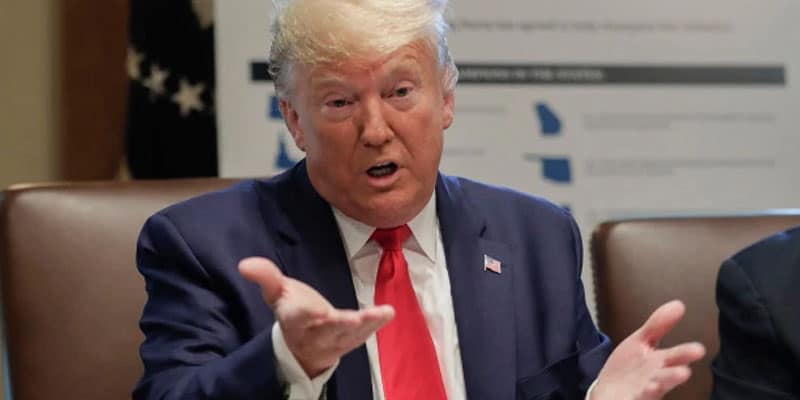 Trump's Impeachment Odds Are Now At An All-Time High
Can Trump's impeachment odds get much higher?
You can never be sure in today's political climate, but it appears the betting market did not react kindly to the blatant admission of a "quid pro quo" from Acting White House Chief of Staff Mick Mulvaney.
The result? President Donald Trump's odds of being impeached during his first term are the highest they've ever been.
Will Trump Be Impeached In His First Term?
Via Bovada – 10/22/19
With -185 odds, the oddsmakers at Bovada believe there's currently a 61.66% chance that Trump will be impeached during his first term, after converting to an implied probability. "No" has received 140 odds and a 38.34% chance.
Previously, the highest "Yes" on Trump impeachment had been was -150 odds, 56.76% chance, compared to "No" at +110 odds, 43.24% chance.
Mulvaney has since walked those comments back, but it appears a substantial amount of PR damage has been done, and it may take some time for the Trump administration to recover from the public bettors' blowback.
And the odds of Trump not being impeached swung back in the President's favor just last week following the Democratic debate in Ohio and were essentially a coin toss with a 50/50 chance of going either way.
Trump is also in a bit of hot water following his decision to pull troops out of Syria, which has caused Turkey to take aim at the Kurds, who had helped American forces defeat ISIS in the region.
And last week, both Democrats and Republicans in the House passed a resolution opposing President Trump's withdrawal from northern Syria. Democrats voted 225-0 while Republicans voted 129-60 in favor of condemning his Middle East foreign policy decision.
The odds of Trump winning the 2020 election are still in his favor, but the political betting market has recently caused his chances to dip below 50% after soaring above that mark earlier this year.
According to the latest betting odds to win the 2020 President Election, Trump has a 45.45% chance of winning back the White House next year, which is far above any Democrat currently running.
However, it's worth noting that once the Democratic Party selects a nominee, the odds for that candidate will likely drastically improve.
Currently, the odds for Massachusetts Senator Elizabeth Warren leads the entire field at +225, which gives her a 30.77% chance of becoming the 46th President of the United States.
US Presidential Election 2020 – Odds To Win
Via Bovada – 10/22/19
Donald Trump +120
Elizabeth Warren +225
Joe Biden +700
Bernie Sanders +1400
Pete Buttigieg +1400
Andrew Yang +2000
Hillary Clinton +3300
Mike Pence +4000
Kamala Harris +5000
Tulsi Gabbard +7000
Beto O'Rourke +10000
Tom Steyer +10000
Amy Klobuchar +12500
Cory Booker +12500
Julian Castro +12500
Marianne Williamson +20000