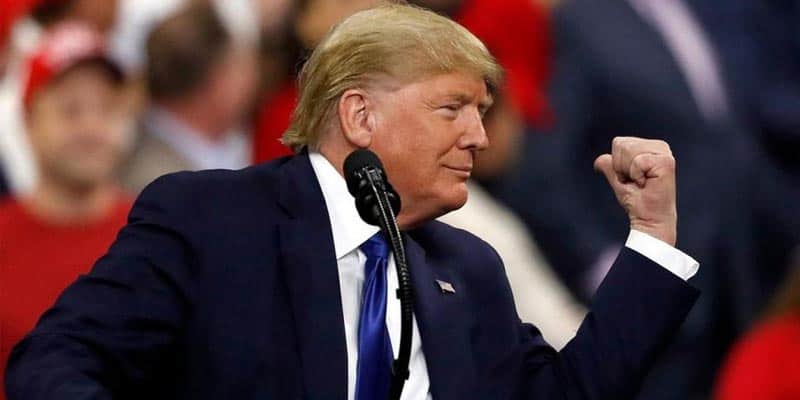 Trump's Reelection Odds Hit All-Time High After House Votes To Send Impeachment Articles To Senate For Trial
In a year that's certain to be filled with uncertainty, the 2020 presidential election betting market has made one thing abundantly clear.
You can't stump the Trump.
At least that is—in essence—what people "putting money where their mouth is" think when real money is wagered on President Donald Trump's reelection odds at political betting sites.
Public bettors appear to be losing confidence with Democrats' current strategy, whether it's impeaching him or beating him on Nov. 3, 2020. And last night's poorly moderated Democratic primary debate coupled with the articles of impeachment being sent to the Senate today has caused a spike in Trump's chances of winning a second term.
According to the oddsmakers at Bovada Sportsbook, Trump has remained the odds-on favorite since the beginning of the primary election cycle. Here's a look back at the start of 2019 to see how Trump's chances of winning a second term have performed.
Will Trump Be Reelected Odds
January 1, 2019: +150
Before Impeachment Vote: +110
After Impeachment Vote: -110
Before Sending Articles Vote: -120
After Sending Articles Vote: -135
Trump is now listed at -135 odds ($135 bet wins $100) to win the 2020 presidential election. When converted to an implied probability, his odds indicate that there's a 57.45% chance Trump will be reelected—an all-time high for any candidate running this cycle.
For comparison, Trump began 2019 with +150 odds, a roughly 40% chance, and previously hit a new high with -120, 54.55% chance, before today.
The House of Representatives approved a resolution Wednesday to send the articles of impeachment—abuse of power, obstruction of Congress—to the Senate, paving the way for Trump's impeachment trial to begin.
As a result, Trump's heavily favored impeachment odds paid out to bettors.
The 228-193 vote, mostly across party lines, comes after House Majority Speaker Nancy Pelosi delayed sending the articles nearly a month after the impeachment vote in an attempt to pressure the Republican-controlled Senate into calling witnesses against the President. It remains undecided whether witnesses will be called to testify.
House Democrats will formally march to the articles of impeachment to the Senate later this afternoon, and Senators are expected to be sworn-in on Thursday by Chief Justice John Roberts.
Senate rules declare that Trump must be summoned and given an opportunity to answer to the charges brought against him before the trial can begin, but his statement can be in written form. The impeachment trial is tentatively scheduled to begin on Tuesday, Jan. 21.
Trump's removal from office odds indicate that there is virtually no chance the Senate (53 GOP, 45 DEM, 2 IND) convicts the President because of the two-thirds majority (67) votes needed. Its last posting showed "No" receiving -7500 odds, a 97.66% chance, and "Yes" getting +2500 odds, a 2.34% chance.
When including the Democrats' betting odds, Joe Biden and Bernie Sanders are currently the most likely candidates to challenge Trump's reelection bid. Biden has a slight edge at +450 odds, an 18.18% chance, but Sanders isn't far behind at +500 odds, a 16.67% chance.
If the Democrats want to improve their chances of beating Trump, then they need to call an audible—and fast—because the current playbook isn't yielding any positive results.
In fact, quite the opposite is happening. The current strategy against Trump appears to be playing right into his hand, and at this point in time, oddsmakers and bettors are virtually the only people who won't be a victim of hindsight in 2020.
Odds To Win 2020 Presidential Election
Via Bovada Sportsbook –  Jan. 15, 2020
Donald Trump -135
Joe Biden +450
Bernie Sanders +500
Michael Bloomberg +1200
Elizabeth Warren +1800
Andrew Yang +2000
Pete Buttigieg +2000
Hillary Clinton +5000
Amy Klobuchar +6600
Mike Pence +10000
Tulsi Gabbard +15000
Michelle Obama +20000
Deval Patrick +25000
William (Bill) Weld +25000
Tom Steyer +30000