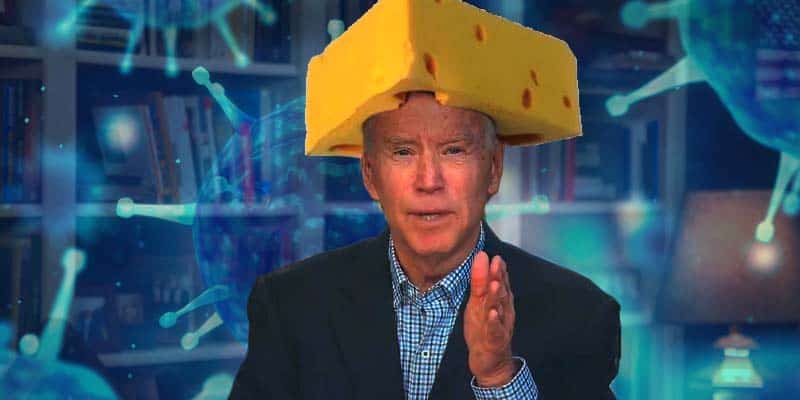 Wisconsin Primary Betting Odds Favor Biden Spreading Malarkey
UPDATE: Wisconsin Gov. Tony Evers on Monday afternoon issued an executive order to delay the state's presidential primary June 9 because of the coronavirus pandemic. However, in the evening, the US Supreme Court ruled 5-4 that overturned a lower court's expansion of absentee voting and ruled the governor didn't have the authority to postpone elections. In-person voting will take place in Wisconsin on Tuesday as initially scheduled, according to the Associated Press.
The 2020 Wisconsin Democratic and Republican presidential primary elections will have in-person voting on Tuesday, April 7.
Let that sink in.
Once you've taken a moment: On Monday, the Wisconsin Primary Betting Odds open former Vice President Joe Biden as a massive favor to win more of the state's popular vote than Vermont Sen. Bernie Sanders.
Wisconsin Democratic Primary Betting Odds
From Bovada
Joe Biden -4000
Bernie Sanders +1000
*How the election bet is graded: The winner of the largest share of the popular vote in the 2020 Wisconsin Democratic Presidential Primary will be declared the winner. Wager has action regardless of when the Wisconsin Primary takes place.
Biden-Bernie Wisconsin Betting Prediction
Biden's odds to win Wisconsin's Democratic primary opened at -4000, which has a 95.03% true implied probability when the political betting site's juice is removed.
Based on the line from oddsmakers at Bovada sportsbook, -4000 means an example $4000 bet would return your initial investment and payout $100 if the former VP wins more votes than the VT senator in Wisconsin's primary election on Tuesday.
The odds of Bernie winning Wisconsin pin him as a substantial longshot underdog. With +1000 on the other hand of the bet, the VT senator has a 4.97% chance to pull the upset when Tuesday's voting results are official.
For a bettors' reference: A $100 bet would win an additional $1000 if Bernie beats Biden in the final vote count for Wisconsin.
Since Bovada's Wisconsin primary odds — Biden -4000 (95.03%), Bernie +1000 (4.97%) — and FiveThirtyEight's forecast for the Badger State gives Biden an 88% to 12% chance to win over Bernie, the former VP is projected to win Tuesday's election convincingly.
With the betting odds for the Democratic Party nominee heavily favoring Biden already, the former VP will likely win Wisconsin, further widen the gap between Sanders in the state delegate count, and increase his chances of becoming the party's pick to face off against President Donald Trump in the general election on November 3.
Why Didn't Wisconsin Postpone Their Primaries?
The GOP is still holding its in-person primaries as well, but there isn't a legitimate incumbent challenger for the contests, meaning Trump's re-election chances will go unchallenged by Republicans in 2020.
For the record, this was the case before and during the coronavirus pandemic. And the odds of the Republican nomination going to someone other than DJT are roughly "Na-da."
On Sunday, Surgeon General Jerome Adams told "Fox News Sunday" host Chris Wallace and warned the American public that this week ahead will be the worst yet of the ongoing COVID-19 outbreak in the United States and around the globe.
"This is going to be the hardest and the saddest week of most Americans' lives, quite frankly," Adams said. "This is going to be our Pearl Harbor moment, our 9/11 moment, only it's not going to be localized. It's going to be happening all over the country. And I want America to understand that."
Tuesday's primaries will take place in Wisconsin despite mostly every health official and medical expert both here and abroad advising people to stay home to avoid spreading the viral disease.
State-level bureaucracy suffered another significant loss when Democratic Gov. Tony Evers initially supported moving forward with in-person voting, flip-flopped on Friday, and then the state's GOP leaders were like "Nah, you made your decision. No takesy backsies."
The breakdown is even worse considering Wisconsin's current stay-at-home order also closed all nonessential businesses and dozens of polling places throughout the state.
The fact that the March 17 primary elections went ahead after a declared national emergency is terrible enough. Tempting fate on April 7, when FL poll workers have tested positive for COVID-19, means America's future lies in the hands of fools.
Because going viral during a global pandemic already a Trump trademark, Biden has decided sleep-reading through cue cards during virtual interviews is the best play.
Although Trump's campaign is leaving everything to the state, Biden recently said he openly supports in-person voting even though stopping the spread of the viral disease should be the only logical top priority.
"Well, the answer is I'd listen to the scientists," Biden said. "Having a convention, having tens of thousands of people in one arena is very different than having people walk into a polling booth with accurate spacing, 6 to 10 feet apart, one at a time going in and having machines scrubbed down."
Biden, unfortunately, continued: "I think you can hold the election as well dealing with mail-in ballots and same-day registration. I mean, there's a lot of things that can be done. That's for the Wisconsin courts and folks to decide, but I think it's possible to do both…And I think it could be done based on what I've been hearing from the news and what I understand the governor and others are saying. But that's for them to decide."
His campaign has since backtracked the former VP's on-air opinion, but the primaries are still going ahead regardless. Note: Holding in-person primaries during a pandemic is worse than Biden's best gaffes but better than his sexual assault allegations.
Sadly, that's most likely the kind of progressive candidate you're going to get with the former VP as the nominee.
Malarkey aside, "Crazy Bernie" is throwing out some more insane proposals, such as calling for state officials to postpone in-person voting and urging his supporters to vote by mail.
"People should not be forced to put their lives on the line to vote, which is why 15 states are now following the advice of public health experts and delaying their elections. We urge Wisconsin to join them," Sanders said on Wednesday.
Maybe one day we'll learn a cold, hard lesson. Until then, here's a sneak peek at those snowy peaks for the Alaska Democratic primary on April 10, which smartly won't have in-person voting. Currently, the Alaska Primary Betting Odds slightly favor Biden receiving more mail-in votes than Bernie.
Alaska Democratic Primary Betting Odds
From Bovada
Joe Biden -320
Bernie Sanders +230