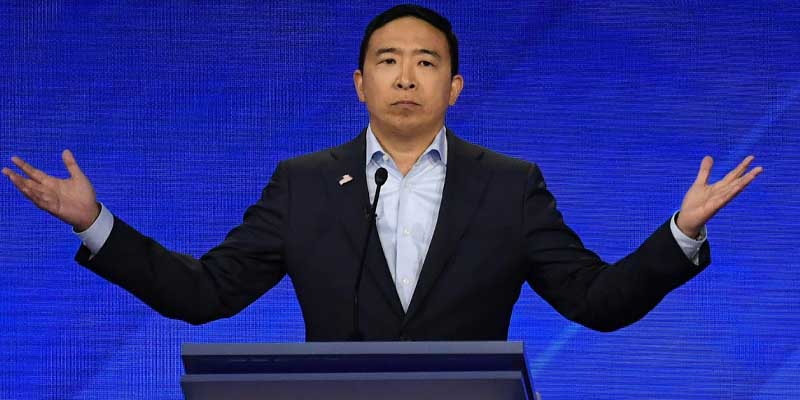 Andrew Yang In Fourth Place After Latest Poll, Finally Mirroring His 2020 Odds
It's all fun and games until Andrew Yang passes you in the polls—and the 2020 Democratic Nomination odds.
The September 2019 Emerson national poll was released on Wed., Sept. 24 and shows Yang in fourth place, with the New York entrepreneur trailing only Joe Biden, Elizabeth Warren, and Bernie Sanders while also leading Pete Buttigieg, Kamala Harris, and the rest of the Democratic field.
According to the Emerson poll conducted on Sept. 21-23, Yang now polls at 8% nationwide—doubling the 4% he polled at nationally back in August.
Yesterday's national poll was the best numbers that Yang has posted since he began his 2020 presidential campaign in late-2017 and saw it gain traction following an appearance on the Joe Rogan Experience podcast back in February 2019—the YouTube interview with Yang has been watched by 4.1 million viewers at the time of writing.
Yang took to Twitter to announce the good news to the #yanggang.
8% nationally and in 4th place – our best poll yet. 😀👍🇺🇸 https://t.co/AgJgj4b8ni

— Andrew Yang (@AndrewYang) September 24, 2019
The latest numbers also show Biden slipping, Warren picking up steam, Sanders holding steady, Buttigieg rising, and Harris—who's now even losing to Yang in her home state of California—falling fast.
Here's how Yang compares to the other Democratic contenders:
Emerson national poll for September 2019
Joe Biden 25% (31%)
Elizabeth Warren 23% (15%)
Bernie Sanders 22% (24%)
Andrew Yang 8% (4%)
Pete Buttigieg 6% (3%)
Kamala Harris 4% (10%)
All other candidates poll at 2% or less
Andrew Yang's 2020 Democratic Nomination Odds
To say Yang's campaign received "longshot odds" at the beginning of the year would be an understatement.
Some oddsmakers had Yang's odds to win the Democratic Nomination at around +10000 ($100 bet wins $10,000) at the start of 2019, and when converted to an implied probability, we can see they gave him a 0.99% chance—not even a full 1%—to face President Donald Trump in the general election.
And that's if they had odds for Yang listed at all—most did not.
In mid-2018, Yang himself even tweeted about the odds to win the Presidency in 2020 and how he was listed at 200-to-1 odds by some betting sites operating in the United Kingdom, commenting that it was a "Good time to make a gamble ;-)."
Vegas giving my campaign 200 to 1 odds to win the White House in 2020. Not bad. You see 200:1 upsets in sports every year. Good time to make a gamble 😉 pic.twitter.com/DehXe9wQeG

— Andrew Yang (@AndrewYang) July 6, 2018
In fact, most online sportsbooks didn't even have Yang listed on the odds board until after the interview with Rogan, and many betting sites began listing him at +5000 odds or 1.96% chance.
But it wasn't until he qualified for the first debate that his Democratic odds truly took off, jumping to as high as +2000 at some sites and giving him a 4.76% chance at the nomination.
It's very likely the public betting market saw Yang's interview, researched his policies, and saw a lot of value in having his positive message and ability to connect with the Democratic voters on the national debate stage.
And the betting public was right.
Yang's chances continued to improve leading up to the first debate, with oddsmakers giving him +1400 odds, 6.67%, to be the party's nominee in May.
After resonating performances in the first three debates, Yang hit a significant milestone in August by cracking the top five odds and matching his $1,000 per month Freedom Dividend plan with +1000 odds, 9.09% chance of winning the Democratic primary.
And at the start of September, Yang passed Harris and has since sat comfortably in fourth place with +800 odds, 11.11% chance—the same placement the national polls now mirror nearly a month after the movement from the betting market.
Yang tweeted yesterday: "I will never forget what it's like to be the odd man – or boy – out.  It's too deep."
I will never forget what it's like to be the odd man – or boy – out. It's too deep.

— Andrew Yang (@AndrewYang) September 25, 2019
While Yang should never forget the past, and what he's had to overcome in life to get to where he's at today, I think it's important for him to occasionally take the time to reflect on what he's been able to accomplish in such a short time while also recognizing the positive impact—and refreshing change—he's had on both U.S. politics and the American people.
After all, Andrew: You could be the odds-on favorite before you know it, and—more importantly—before the other candidates even know what hit 'em.
2020 Democratic Nomination Odds
Taken from the Politics Futures section at BetOnline – 9/25/19
Not Elizabeth Warren -150
Elizabeth Warren +120
Joe Biden +350
Bernie Sanders +600
Andrew Yang +800
Kamala Harris +1200
Pete Buttigieg +2000
Tulsi Gabbard +3300
Beto O' Rourke +4000
Cory Booker +4000
Tom Steyer +5000
Amy Klobuchar +6600
Jay Inslee +10000
Julián Castro +10000
Marianne Williamson +10000
John Delaney +15000
Michael Bennett +15000
Tim Ryan +15000