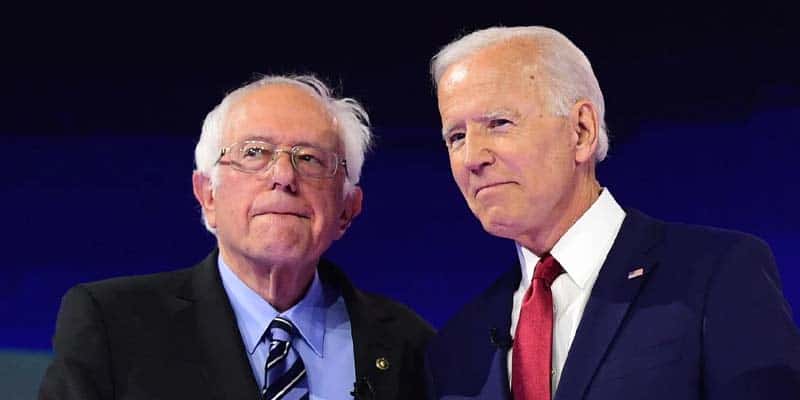 March 10 Democratic Presidential Primary Betting Predictions
Six states will cast their vote today for the March 10 primaries, also known as Super Tuesday 2.0, Super Tuesday Lite, or Mini Tuesday, among other less superb titles.
Tuesday's 2020 Democratic presidential primaries will award a total of 365 pledged delegates, with 352 coming from six state contests and another 13 from the Democrats Abroad primary, which started voting on Super Tuesday, March 3.
The Michigan Primary is the top prize of the day and awards a total of 125 delegates, followed by Washington (89), Missouri (68), Mississippi (36), Idaho (20) and North Dakota (14).
Getting the 1,991 delegates needed to secure the Democratic nomination is now a two-candidate race between former Vice President Joe Biden and Vermont Sen. Bernie Sanders. Hawaii Rep. Tulsi Gabbard is still running, but she is not projected to receive any delegates going forward.
According to the state primary betting odds from Bovada sportsbook, Biden is a slight favorite over Sanders in three states but holds a massive edge in three others. Either way, Biden is projected to sweep all the March 10 primaries.
But will the former VP come out on top in every state? Or will the Vermont senator pull off another round of upsets, as he did in Michigan in 2016? Using both the odds and final forecast from FiveThirtyEight, here are our March 10 primary predictions—from most to least amount of delegates up for grabs.
Predictions For March 10 Primary Betting Odds
Political Futures at Bovada
Michigan Democratic Primary Winner: Joe Biden
Joe Biden -2000
Bernie Sanders +800
Total Delegates: 125
Prediction: The Michigan primary betting odds give Biden a 93% implied probability to win the most votes. The 538 forecast is even more optimistic, giving the former VP a 99% chance. Sanders polled poorly in Michigan in 2016 against Hillary Clinton and won the state by a one-point margin. However, Biden has more appeal to working-class voters in Michigan, meaning a Sanders upset is much less likely.
Washington Democratic Primary Winner: Joe Biden
Joe Biden -240
Bernie Sanders +175
Total Delegates: 89
Prediction: Sanders' best chance on March 10 is in the Northwest, but the Washington primary odds still list him as the underdog with a 33% chance compared to Biden's 67% implied probability. 538 is more favorable to Sanders, giving him a 40% chance to win the contest. Note: The ongoing coronavirus outbreak in Washington state, which has killed 22 people to date, will likely lower voter turnout.
Missouri Democratic Primary Winner: Joe Biden
Joe Biden -6000
Bernie Sanders +1200
Total Delegates: 68
Prediction: Odds for the Missouri primary heavily favor Biden, giving him a 96% implied probability to win while 538 lists the former VP with a 99% chance. Given how Biden performs well in the southern states, Missouri is likely well out of reach for Sanders.
Mississippi Democratic Primary Winner: Joe Biden
Joe Biden -10000
Bernie Sander +1400
Total Delegates: 36
Prediction: If Michigan and Missouri are locked in for Biden, the Mississippi might be one of the safest bets of the entire Democratic election cycle. Both the Mississippi primary odds and 538 give Biden a greater than 99% chance to win, and with polls showing him up 40 points, Sanders has no chance in the Magnolia State.
Idaho Democratic Primary Winner: Joe Biden
Joe Biden -450
Bernie Sanders +300
Total Delegates: 36
Prediction: Sanders opened as the favorite in the state, according to the Idaho primary odds, but after Super Tuesday, oddsmakers now give Biden a 79% implied probability to win. 538 lists Biden with an 81% chance, and after Washington, Idaho is Sanders' best bet to pull an upset.
North Dakota Democratic Caucus Winner: Joe Biden
Joe Biden -650
Bernie Sanders +400
Total Delegates: 20
Prediction: Like Idaho, the odds for the North Dakota caucuses initially favored Sanders but fliped to Biden. The former VP has an 84% implied probability of winning from oddsmakers and a 93% chance from 538. Sanders has performed well in caucuses, but there's a strong possibility he comes up just short in the Peace Garden State.
Biden's Nominee Odds Hit All-Time High
The updated odds to win the 2020 Democratic presidential nomination before the March 10 primaries show Joe Biden as the clear favorite.
Biden's betting odds list him at -900 (or 1/9), which is the highest for any candidate running in the Democratic primary. A $9 bet would pay out $1, and oddsmakers give Biden an 82% implied probability to be the nominee to face President Donald Trump in the general election.
While the odds for Sanders, +700 (or 7/1), don't indicate his campaign is over quite yet, the situation may get dire unless he can stay competitive in the delegate count after the March 10 primaries. With an 11% chance to mount a comeback, a $1 wager would return $7 if the Vermont senator becomes the eventual nominee for the Democratic Party.
2020 Democratic Nominee Odds
Political Futures at Bovada
Joe Biden -900
Bernie Sanders +700
Hillary Clinton +2000
Michelle Obama +5000
Tulsi Gabbard +20000